Headstones & Plaques – Our services
We work directly with families to assist them in choosing a design that represents the life of their loved one. Stone is a relic of the oldest ages of our planet and thus worthy of being a symbol of remembrance of those we love.
.
Coming from a deep tradition of European stonemasonry, we are experienced memorial masons and sculptors with all the equipment and know-how necessary to do the job. We work with you to create headstones, memorials and monuments which emphasise taste, individuality and creativity. We know many forms and shapes not available on the standard market.
.
Our installations are secure and versatile: memorials made to last for centuries.
.
.
.
We offer customised pieces – a variety of shapes, colours and lettering are available for designs that embody the personality of your loved one.
.
• Inlay work, such as mosaics or paua
• Unusual surfaces: pitched and broken edges, flamed or polished surfaces
• Hand-crafted inscriptions that are done in the classical way with hammer and chisel
• Copper lettering
• Blacksmithing work
.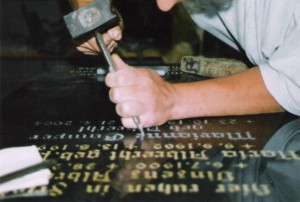 .
We combine a wide selection of typefaces and designs to customise plaques.
.
.
Photo ceramics, vases, lanterns, copper and stone sculptures, etc. that are used to enhance the place of remembrance.
.
.
If you need to make changes to an existing monument, we can help you. For example, we can chisel new inscriptions without removing the stone from the site.
.
.
We can provide a variety of repairs. For example: dealing with the results of vandalism, removal of moss, and repair of cracks, chips and stains. We can also re-erect fallen headstones.
.
.
Installation of headstones and plaques.
.

2018 ATOS Hawkes Bay – Hastings, Napier, Waipukurau